In november 2005 contacts were taken with Andrea Miniatures to sculpt a bust master.
the topic was Jochen Peiper.
the most famous story of him was his action during the battle of the ardennes in 1944
the picture chosen to carved this bust was the well known of him with leather uniform.
this was the first time i worked with this company and instructions were given by e-mail because i couldn't travel from france to spain.
The bust finished, i sent it by post (with tracking) in march 2006, the first time i saw the bust again was in august 2006, it was painted and was announced as the new andrea bust.
This experiment was very enriching and this bust remains our only collaboration.
Since this date i have never painted it myself to busy with others sculpt and paint but this year (2008/2009)i have planed to paint it.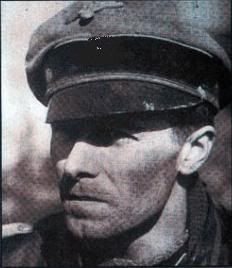 JO PEIPER
the birth of the bust (november 2005)
the master (march 2006)
Andrea's box art (august 2006)
to be continued ....